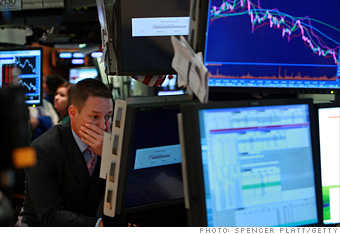 Note: This photo is from the CNN Money.com website, and the photo is attributed to Spencer Platt/Getty. I am using this for educational purposes. The fall of the market is dramatically depicted on the screen the upper right hand corner of the photo, and the human response to the shock is reflected in the body language and expression of the man staring at his computer display. I will take the photo it down if it is requested.
CNN Money.com has a time-line of the recent events surrounding our current economic woes:

The crisis: A timeline
"A shocking series of events that forever changed the financial markets
"
The CNNMoney.com timeline offers a bit of interactivity, but it is primarily text-based. Each article embeds links to related information, which is a good feature.